Spending time outdoors on your patio or porch should be relaxing and enjoyable. But swarming mosquitos, flies, moths, and other pesky bugs can quickly ruin the experience.
An outdoor electric bug zapper is an easy solution to take back control of your outdoor living space by reducing annoying insects.
In this blog, we'll review the top-rated outdoor bug zappers to install on your patio, deck, or porch area. With the right heavy-duty bug zapper in place, you can recreate your outdoor oasis free of frustrating buzzing and bites.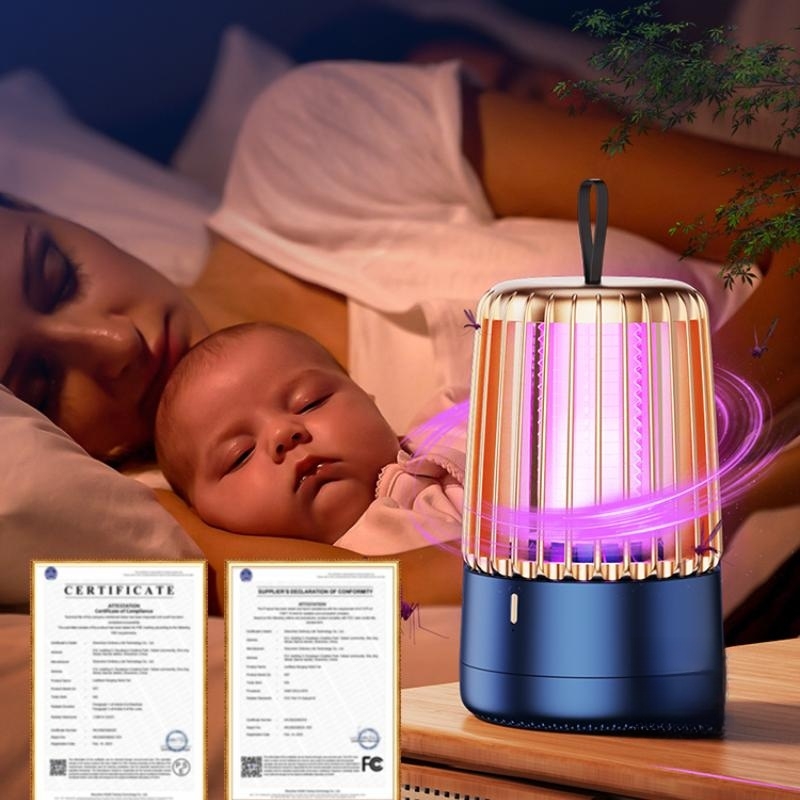 What to Look for in an Outdoor Bug Zapper
When choosing an outdoor patio or porch bug zapper, here are some key features to consider:
Powerful zap strength – At least 4,000 volts to effectively electrocute flying insects
Large coverage area – Up to 1 full acre to control bugs in wide outdoor spaces
Weatherproof – Durable and designed for permanent outdoor installation
UV bulbs – Bright ultraviolet light attracts nighttime insects
Optional attractants – Octenol strips or black light to draw in more bugs
Built-in collection tray – Catches insect remains for easy cleanup
Easy installation – Wall mount or free-standing post to set up in minutes
With the right strength, coverage, and design, these heavy-duty bug zappers will keep your patio or porch pest-free so you can relax and entertain again.
Top Outdoor Bug Zappers for Patios, Decks, and Porches
Now let's look at the top outdoor electric bug zapper models recommended for patios, decks, porches, and other outdoor living areas.
The Electric Mosquito Light is a powerful bug-zapping lamp designed to attract and eliminate mosquitos and other annoying flying insects. This electric mosquito killer uses advanced UV bulbs and photocatalyst tech to lure bugs in and destroy them in contact.
With 40W of power, the Electric Mosquito Light provides up to 1 acre of pest control coverage for backyards and gardens. The weatherproof design allows for durable outdoor use.
This mosquito lamp also utilizes human-simulating UV wavelengths to specifically target blood-sucking mosquitos and bugs near people.
The Electric Mosquito Light has a two-level lighting system – 15W UV bulbs on top to attract bugs from a distance paired with more powerful 25W bulbs on the bottom to zap insects up close. The removable collection tray catches and contains zapped bugs for easy cleanup.
With a robust design and insect-eliminating power, the Electric Mosquito Light from MosquitoKillerLight is an ideal way to control mosquitos and enjoy outdoor living pest-free.
Flowtron BK-40D Electronic Insect Killer
The Flowtron BK-40D is one of the most powerful bug zappers available with 40W bulbs that electrocute insects on contact. This unit can cover up to 1 full acre, making it ideal for large backyards and pool areas.
The weatherproof bug zapper has 2 levels of included 15W UVA bulbs along with optional attractants like octenol lures or black light bulbs. A removable catch tray collects dead insect remains for fast cleanup. With a 2-year warranty and U.S.-based customer support, the Flowtron BK-40D is an excellent heavy-duty zapper for large outdoor areas.
Burgess 960 40-Watt Outdoor Bug Zapper
Trusted brand Burgess has an outdoor zapper designed to kill flying insect pests on contact. This 40W, 4,000-volt bug zapper has a weatherproof housing and catch tray to handle being installed permanently outside.
The Burgess outdoor zapper can cover up to half an acre and runs on standard 120V power. Dual 20W blacklight bulbs give this an edge by attracting more flying insects. If you need major bug control for a medium to large yard, the Burgess 960 is up to the job.
Flowtron BK-15D Electronic Insect Killer
For smaller outdoor areas like patios and decks, the Flowtron BK-15D provides 15W power in a more compact size. Despite being smaller than other outdoor zappers, this unit still provides 1/2 acre coverage to keep your deck or patio pest-free.
The BK-15D bug zapper uses efficient 15W UVA bulbs and has optional attractants and black light bulbs available. The removable catch tray and weatherproof housing allow permanent installation outdoors. For powerful but petite pest control, this Flowtron model is perfect for patios and decks.
Aspectek 20W 3-in-1 Bug Zapper
This multipurpose insect zapper from Aspectek is ideal for covering outdoor areas like gazebos, patios, and garages. The 20W bulbs deliver a powerful 4,000-volt zap to kill mosquitos, flies, moths, and other bugs in contact.
This zapper can attract insects up to 6,500 sq ft, making it great for large gathering areas outdoors. The built-in light also provides illumination when entertaining at night. And the integrated chain allows the unit anywhere. For versatile bug zapping, the Aspectek 3-in-1 model is a great choice.
Terro T300B Patio Zapper Lantern
For a bug zapper that doubles as patio lighting, the Terro T300B Lantern Zapper is perfect for creating ambiance and controlling bugs. This multifunctional zapper has a vintage lantern style but delivers modern power with a 4,000-volt grid surrounded by four 11W UVA bulbs.
The Terro T300B has a weather-resistant powder-coated steel body designed to withstand outdoor use. Attractants can be added to improve effectiveness. And it covers up to 540 square feet. If you want bug zapping with style, this patio lantern zapper adds flair while eliminating pests.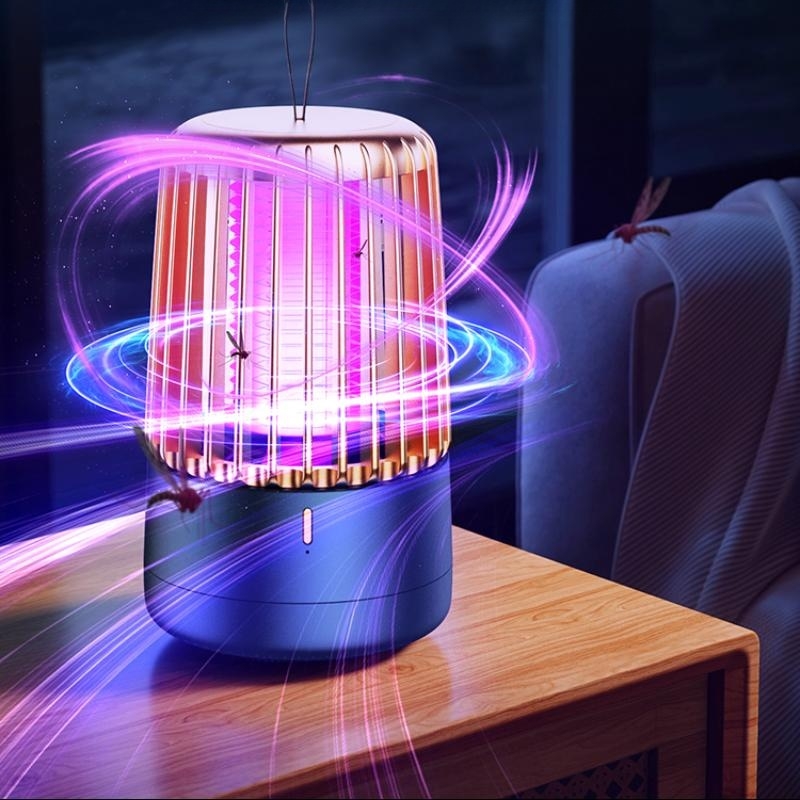 Making the Most of Your Outdoor Bug Zapper
To maximize the effectiveness of your new outdoor electric bug zapper, here are some usage tips:
Place the zapper upwind from gathering areas so insects are drawn away from guests.
Keep the unit away from vegetation and water sources that attract bugs.
Install the zapper at least 20 feet from patios, pools, etc. to avoid excess zapping sounds.
Change bulbs annually for optimal UV brightness to lure insects in.
Clean the catch tray weekly to prevent dead insect buildup.
Use attractants like pheromones and octenol to improve trapping efficiency.
Rotate multiple units around the perimeter to cover all entry points.
With some small adjustments, your outdoor bug zapper can provide even better-flying insect control around patios, porches, and yards.
Take Back Your Outdoor Living Spaces
Don't let frustrating flying pests keep you from enjoying backyard BBQs, evening cocktails on the porch, or Sunday brunches on the patio this summer. With a powerful, weatherproof outdoor electric bug zapper in place around these spaces, you can drastically reduce the swarms of mosquitos, flies, moths, and other annoying bugs.
The top-rated heavy-duty patio and porch bug zappers we covered will allow you to reclaim your outdoor living areas for relaxation, fun, and entertaining again. The satisfying sizzle of an insect zapper also delivers sweet success with each pest eliminated. Install one of these outdoor zappers now and take back control of the bugs!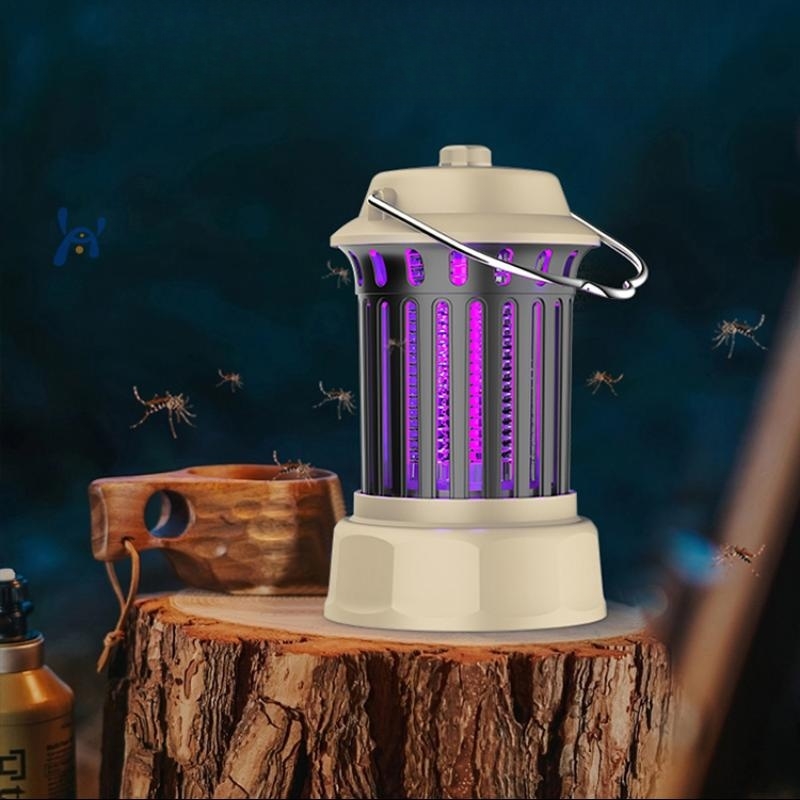 Additional Details on Using Bug Zappers Outdoors
To further help you get the most out of an outdoor bug zapper, here are some extra tips and information:
Choosing the Right Location
Try to place the zapper downwind from primary gathering/dining areas so bugs are drawn away.
Avoid locating too close to gardens or sources of standing water that attract mosquitos.
For free-standing units, pick a level surface in an open area for stability.
Ensure there is adequate clearance around the zapper for insects to enter safely.
Maintaining Your Bug Zapper
Check and replace bulbs once a year to maintain maximum UV brightness.
Clean the collection tray weekly before buildup occurs.
Wipe down the exterior housing periodically to prevent dirt/grime buildup.
Ensure openings remain unobstructed so insects can easily enter.
Follow all manufacturer maintenance recommendations.
Using Attractants and Accessories
Octenol attractant strips can boost mosquito capture rates.
Blacklight bulbs add more insect-drawing power at night.
Extra-large collection trays allow longer intervals between cleanings.
Timer plugs or remotes allow the zapper to be turned on/off as needed.
Weatherproof covers help the zapper last through any conditions.
Floor stands and wall mounts provide flexible positioning options.
Safety Tips
Keep the zapper installation at least 20 feet from primary activity areas.
Position away from flammable materials and out of reach of children/pets.
Avoid touching the electrified grid while powered on – the risk of shock.
Turn off and unplug before any maintenance or bulb replacement.
Use a GFCI outlet or GFCI extension cord as an extra precaution.
With the right placement, maintenance, accessories, and safety practices, an outdoor electric bug zapper can deliver maximum pest control with minimal hassle. Carefully follow manufacturer instructions as well to keep your zapper running safely and optimally.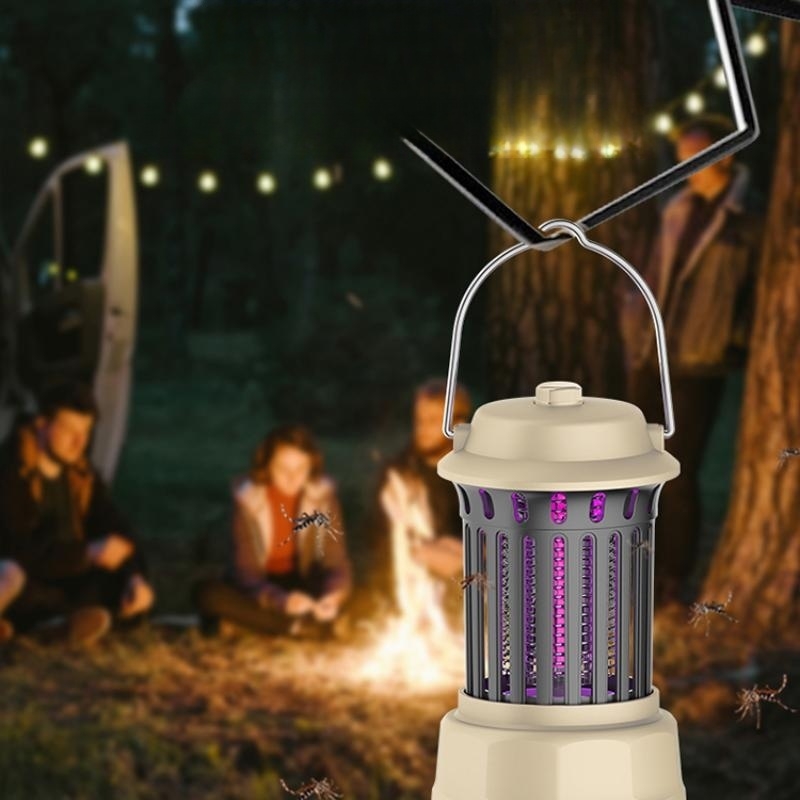 Alternative Outdoor Insect Control Options
For those seeking alternatives to traditional electric bug zappers, there are a few other options:
Mosquito Traps
Use attractants, CO2, and warmth to lure just mosquitos in.
The fan sucks bugs into a retaining cartridge away from people.
Targeted for just mosquitos, less environmental impact.
Good for highly populated mosquito areas.
Insecticide Foggers/Misters
Disperse fine insecticide mist across a zone of up to 5,000 sq ft.
Temporary measure that works for a few hours per use.
Effective but repeated use has an environmental impact.
Consumer foggers are available or hire pro pest control.
Natural Repellent Plants/Oils
Certain plants like citronella naturally repel insects.
Oils like peppermint, eucalyptus also deter bug pests.
No-zapping and eco-friendly options but less potent effects.
Work best alongside other measures in a multipronged approach.
Though electric and propane bug zappers remain the most powerful solutions, alternatives like mosquito traps, foggers/misters, and natural repellents may also help combat outdoor insects for those seeking non-zapping options. Often a combination of several approaches offers the best defense.
The Joy of a Pest-Free Patio or Porch
Imagine how wonderful it will feel to reclaim your outdoor living space this season. No more swatting away mosquitos when you're trying to grill.
No more moths fluttering around lights at your outdoor dinner party. Just pleasant, peaceful evenings sipping cocktails on the patio or reading on the porch once again.
With one of the powerful electric bug zappers we covered, you can make this pest-free outdoor oasis a reality.
Conclusion
Don't waste another summer battling frustrating flying insects. A quality zapper is a smart long-term investment that pays off instantly in pure relaxation and enjoyment.
Give your patio or porch its rightful purpose back – your personal sanctuary away from the world – by taking control of the bugs first.